As a young adult, I tend to put a lot of time into my work, definitely more than the average 40-hour workweek. When I'm not working, I'm probably sleeping. Honestly, dating hasn't been a priority.
If you didn't know, Taylor and I broke up a few months back. Since then, I've been focusing on myself, my friends, my new job, and my new city, all of which is going great.
In recent weeks, I've slowly been putting myself back out there. Thanks to dating apps, I don't have to go too far. Finding a guy to chat with me is as easy a "swiping right". Each dating site it a little different, so I joined them all.
Someone told me "there is no such thing as a bad date, just a good story". And lucky for you, I'm willing to share all my stories online.
I'm not going to tell you all of the details right now because I want to leave a little mystery for future blog posts. I will admit that I have no shame in going out on first dates with multiple men, mostly because I have a trend of not getting second dates. It doesn't make me sad though, it just proves that they aren't what I'm looking for. What am I looking for? I'll know it when I see it.
Tinder
I swear, I keep telling myself I'm going to stay off Tinder, but in reality, I can't go more than four days without swiping. The type of guys on Tinder is usually "not looking for anything serious" or only swipe when they have an account. Just like me, I feel like most people have a love-hate relationship with Tinder, deleting it every few days just to redownload it and start again.
I seriously could write a blog series solely on my Tinder adventures. My last long-term relationship started with some tacky pickup lines on Tinder. I've also had guys (who I didn't even match with) follow me home from college football games, only to have the cops called on them for stalking.
Recently, I have using Tinder to work on my pick up lines. Occasionally, I'll find a gem and we will meet for lunch or coffee or drinks and after one date, he'll realize that he "really doesn't want to settle down yet" and I'll never hear from him again. Such is life.
Bumble
Bumble is pretty much the same thing as Tinder, except for that the girl has to message first and she only has 24 hours to send him something. In addition, he only has 24 hours to respond before the message (and the connection) disappears forever.

I find the guys on Bumble to be better looking than Tinder (sorry, not sorry). Sending the first message does give me mixed emotions though... I have to say something witty enough for him to respond to, but he may or may not see it in time. I feel like I've come across my future husband on Bumble, but he didn't know it.


OKCupid
I find OKCupid to be the most in-depth dating app that I have. They have a ton of quiz questions to help build your Match % which other users can see to help base a connection off of. On top of that, there are some open-ended questions on your profile that can help people judge you more.

I feel like I'm kinda picky. If you know me, you know that guys with kids are turn-offs for me. But for some reason, I let myself go out with a guy from OKCupid that had a 9-year old. No, I did not meet this child. The first date went well, but conversation slowly fizzled out when we realized we genuinely had nothing in common, which I should have realized from our Match %.

One of the good things about OKCupid is that you can put some basic filters on your inbox for free. This way, if someone who doesn't have a high Match % or an inactive profile tries to contact me, I won't see it unless I go to my filtered inbox. You have to pay for other filters (like blocking guys who state on their profile that they have kids or people who just message saying "hi").

Okay, Cupid, give me something good or I'll be deactivating my account soon.



Coffee Meets Bagel
My one girlfriend from church told me about Coffee Meets Bagel, so I figured I'd give it a try. What's unique about this app is that you can filter people by height, ethnicity, and even if they have a degree (for free). They show you one person per day and you can connect or pass. They try to show you people that they think you'll connect with based off of your profile. When you connect with a person, you only have a few days to build a connection (and swap contact info) before the chat closes.
When I first got this app, I connected with a guy in my first week. I thought we were hitting it off. Then he stopped responding, the chat closed and I didn't get his contact information. My loss I guess. Honestly, I feel like no one actually uses this app, so it's kinda pointless, at least for me.
Plenty of Fish
Plenty of Fish is probably my least favorite app that I have in my dating artillery. The app and the website are just not as "pretty" as the others which makes me want to use it less. And the guys aren't' really making an impression with their lack of pictures, one word messages, and incorrect grammar. Not even worth my time.
Hinge
After reading an article about
the most eligible influencers based off of Hinge
, I knew I needed to download this app, more than anything to put my name out there (shameless plug). I feel like Hinge is revolutionizing the dating app game, requiring people to converse, rather than just swiping right or left.
You can only like 10 people per day without paying, but 10 seems to be enough for me. The conversations I've been having are great, too. You are forced to find things to connect over, whether it's one of the questions they answered or something in one of the pictures. Everything on the profile can be a conversation starter if you make it one. I'll keep this app around, even if it doesn't turn the most results.
My. Phone. Has. Been Blowing. Up. Seriously. Honestly, though, I'm not complaining. Yes, this is that dating app that may or may not have ads everywhere online (I blame Facebook). I finally gave in and downloaded it and I'm not sorry I did.
I am seriously shocked at the number of people that use this app since I had never heard of it. While not all of the people I've matched with are local (one of the downsides is that people outside of your radius can see you), I do have a date or two in the works. Fingers crossed that they don't end up like my Tinder dates.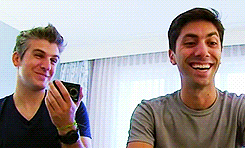 While I have been lucky and haven't been catfished yet, I am very careful with what information I disclose online and what people can find out about me. The internet is a public place and once information is out there, it's out there forever, so
please use caution when utilizing online dating websites and apps
.
Have you ever used a dating app? Have any stories you want to share?
Comment below!